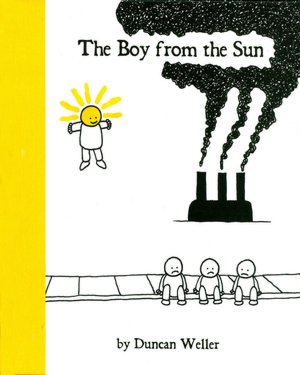 By Duncan Weller
(Simply Read Books, 2006)
This is another picture book recommendation for Earth Day.
Three boys sit idly on a sidewalk. A factory with a trio of spewing smokestacks stands behind them. The simple images are drawn in black, the remainder of the page sparsely white. It's a desolate setting, sucking up any energy. Of the three boys, Weller writes, "They said nothing, and could only stare."
The first splash of color comes on the third page flip as another boy appears, drifting downward from the sky. He has "a big yellow shining head", glowing rays projecting outward. Yes, refer once more to the title. This is The Boy from the Sun. (I'll call him Sunny.)
With each page turn, the smoke cloud emerging from the factory grows. The boys' down-turned mouths remain the same. The boy with the yellow head asks what should be self-evident: "Why are you so sad?" The sidewalk sitters are nonresponsive.
And then Sunny announces, "Keep your eyes open!"
An exotic bird appears. Suddenly, a muted green field surrounds the sidewalk.
More people float in the sky. They wear colorful period costumes and traditional garb from other cultures. The grass becomes greener; the black cloud detaches from the smokestacks and floats away.
With smiles on their faces, the boys follow Sunny. They see and explore jungles with wild animals and people from other places. They leave the city behind. As they travel, the sidewalk erodes and the boys learn to play in an inviting outdoors. They begin to imagine. They come to realize there is more, including a "world without". Sunny recites a poem, one verse quoted here:
For here, with everyone,
You are splinters of the sun,
You are worth celebrating,
You are worth elevating,
And when you take the time
To fill your worlds within
You will join the world without.
The Boy from the Sun
is a thinking book. I love to let children note the changes from page to page and I encourage them to speculate about the author/illustrator's message. Indeed, Sunny's poem requires repeated reads. Let the audience ponder the meaning over a week's time, revisiting it each day. The illustrations also require further discovery. Can viewers research to identify the cultural and historical backgrounds of the people? Can they Google to determine the plants and animals Weller depicts? Do the animals and plants exist in a common habitat or has Weller joined them together for a collage effect?
Students could also weigh in on the different artistic styles Weller applies. The book won the Canadian Governor General's Award for its illustrations. Let the children be art critics. Is it a worthy award recipient?
Yes, this is a book that can inspire deeper learning and discussions. It's worth tracking down.