Written and photographed by Ken Robbins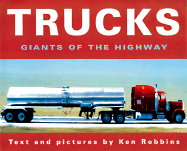 (Atheneum Books for Young Readers, 1999)
As an adult driver, trucks can be a menace.

Big clunkers to pass, obstacles to the view, even if the view is only a series of billboards telling you how far it is to the alien museum and the next McDonald's.
But, to kids, trucks are glorious road monsters.

What youngster hasn't delighted over getting a truck driver to honk its horn?

The quick blasts are a welcome diversion from thoughts of "How much longer?"
Trucks:

Giants of the Highway presents a photographic essay of life on the road.

Robbins adds a little text to explain parts of the big rigs.

(I'm embarrassed to say I'd never done the math regarding eighteen wheelers.

Never cared to.)

Most of the writing is clear and simple, perfect for young children.

The best writing, however, comes on the first page as Robbins refers to the trucks "loaded up with who knows what…, rumbl(ing) past like thunder on the road."
My extremely worn, almost tattered, library copy of the book is a testament to the appeal of the topic.

Boys will, no doubt, stare open-mouthed at the photos of the tractor-trailers and the glimpse we get of life in the cab.
If anything, I wanted more.

How about a shot showing a boxcar being loaded with some unique cargo?

What about another page or two of the transient community that thrives on all that truck stops have to offer?

There is room for more as Robbins fills many pages with photos and no text.
I am quibbling, of course.

Kids will be enthralled, imagining their lives as a trucker.

The job has a spot in kids' dreams, right alongside professional football player and president.

No need to make any rash decisions.

It's a long road to adulthood.