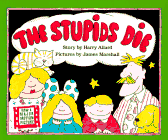 Written by Harry Allard

Illustrations by James Marshall

(Houghton Mifflin, 1981)

I may as well start with something stupid. Actually, four Stupids. This is not a literary picture book. There are no award stickers blocking the puffy cover images of Mr. and Mrs. Stupid and their dim children, Petunia and Buster. They gather in the living room to stare intently at the blank screen of an unplugged television. They sleep under the bed. Buster mows the rug while Petunia uses a sprinkler to water the house plants. It should come as no surprise that, when the power goes out, Mr. Stupid thinks they've died. And they mistake Cleveland for heaven. How stupid is that?!

It's the kind of book that may make adults groan, yet young readers will delight in picking up the absurdities in the text and in the illustrations. (One running gag by illustrator Marshall is the mislabelled art that hangs about the Stupids' house (e.g., a butterfly is identified as "COW"; "LAKE STUPID" is a bucket of water).

I did not know about this book until a speaker at the 2010 annual summer conference of the Society of Children's Book Writers and Illustrators cited it in his keynote. The pages he shared generated hearty laughter. I felt like the stupid one. How had I missed this? It's not only a book, but one of a series of four. "The Stupids" even became a feature film starring Tom Arnold in the 90s. (It bombed. I blame its star.) It took me twenty-nine years, but I am no longer ignorant.

If you're in the mood for Mr. Bean or Monty Python-lite, the Stupids may even produce the giggles. Sometimes we all need to lighten up.